Michael Schmidt, Senior Analyst at the German Mineral Resources Agency, spoke to Innovation News Network about the steps that Europe must take to ensure that the demand for lithium is met.
Demand for lithium in European battery applications is expected to increase by over 300% between 2023 and 2030. This rise is mainly driven by the demand for lithium-ion batteries in electric vehicles (EVs).
Lithium-ion batteries are the dominant battery technology in the EV industry due to their safety, durability, and long-life cycle. Lithium cannot be substituted from the battery, meaning that in the near future, demand for the critical mineral will not decrease.
As a result of this, Europe is expected to have the second-largest share of global lithium demand for the foreseeable future.
This raises the question as to how the region will ensure that this demand is met.
The landscape for rising lithium demand in Europe
Currently, Europe accounts for under 1% of the global lithium supply, making the region highly import dependent.
Despite this, demand projections estimate that the EU will need around 400,000 tonnes of lithium carbonate equivalent.
To ensure that this demand is met, analysts have argued that the EU must get every lithium project up and running. At the moment, the region has 28 lithium mine projects under development – 19 in EU Member States and four in the UK.
These projects are forecast to begin operations in the late 2020s and are set to be producing nearly 70kt lithium carbonate equivalent by 2030.
Policy to implement domestic production
The importance of securing a domestic supply of lithium was underscored in the Critical Raw Materials Act, announced in March 2023.
The Act aims to provide a framework to strengthen its domestic critical mineral supply chains, targeting for the EU to meet 10% of its mined demand for critical minerals – including lithium.
However, there is still a long way to go to ensure that these goals are met.
To find out more about Europe's rising lithium demand, Innovation News Network spoke to Michael Schmidt, Senior Analyst at the German Mineral Resources Agency (DERA).
Is Europe on track to meet demand for lithium?
If there is a demand for roughly 400,000 tonnes of lithium carbonate equivalent, Europe could be self-sufficient for 25-35% of resources in 2030. The rest would have to be managed by imports from other countries.
Towards the 2040s there is potential to reduce the import dependence further as projects evolve in Europe.
However, currently, an import dependence of around 50-65% is being forecasted for the region.
Meeting the demand for lithium resources depends on what EV uptake will be, based on regulatory frameworks.
How should European policymakers ensure that more projects are set up in the continent?
Europe needs to find investors to finance potential lithium projects. To meet demand, Europe calls for €10-15bn.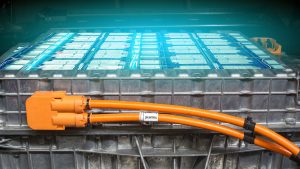 Looking at the company structures of mining operators in Europe, they are mostly owned by Canadian or Australian explorers and investors.
There is no real investor sentiment here in Europe. Somebody must pay for the project development, but who is it going to be? That is one of the biggest questions.
What are the challenges facing European industry in meeting the rise in demand for lithium?
Financing and social and public acceptance are the major challenges facing the European industry. Sustainability issues as well as regulation are also of concern.
First, we need to look at the acceptance of mining in Europe. We need to implement the fact that mining is necessary and that it will have an environmental impact. It is a responsibility to minimise this footprint.
We need to mine locally in Europe; the continent cannot solely rely on imports. This is the best way to guarantee a secure and stable supply of critical metals.
Financing is another crucial challenge. Looking at Imery's project fund for 34,000 tonnes of lithium, the financing required is a staggering €1bn.
The demand in Europe, therefore, would call for €10-15bn of investment, and as previously stated, there is currently a lack of investor sentiment here in the region. This must change.
These issues must be overcome to ensure that the rising demand for lithium in Europe is met, enabling the region to successfully transition to clean energy and reach its 2050 net zero goals.