It is increasingly apparent that Europe must develop its own supply chain of critical minerals to support its green energy strategy. European Green Metals Ltd (EGM) aims to help in this regard, developing a portfolio of critical minerals projects, including the Olserum rare earth element (REE) project in southern Sweden, which has the potential to be Europe's first REE mine.
Research suggests Europe needs to increase today's critical minerals four-fold by 2040 for the deployment of clean energy technologies. Responsibly boosting global supply and avoiding critical mineral shortages is therefore paramount, no more so than in Europe, which has reached a critical juncture. As highlighted by European metals association Eurometaux, the next five years will decide whether the continent succeeds in recovering and growing its sustainable metals and minerals value chains, or whether other areas of the world push further ahead in the global resources race.
European Commission President Ursula von der Leyen recognised this earlier in the year when she stated: "Lithium and rare earth elements will soon be more important than oil and gas. Our demand for rare earths alone will increase five-fold by 2030… we will identify strategic projects all along the supply chain, from extraction to refining, from processing to recycling. And we will build up strategic reserves where supply is at risk."
As a global hub for electric vehicles (EVs), gigafactories, wind turbines, solar, and battery storage, combined with world-class expertise in chemical industries, processing, and the refining of imported speciality metals, Europe should be in a stronger position than it is. Yet, there is a distinct lack of quality critical mineral projects on the horizon.
Whilst there has been an absence of exploration in the region, the continent has the geological potential to host a variety of substantial critical metal deposit types. Indeed, many countries have long mining histories, including Sweden which has 12 operational mines, recognised geology, infrastructure, and supportive in-country legislation. With European economic policy at the forefront of maintaining its competitive advantages, and political support from the EU Green Transition lobby, projects such as Olserum need to be rapidly advanced through permitting.
David Hall, CEO of EGM, said: "Critical mineral projects must be advanced quickly or we risk missing key environmental targets, which will have dire consequences on the world."
EGM, with its team of highly experienced geologists, scientists, and financiers, has the experience and knowledge to take projects like the Olserum rare earth element project forward. Having operated worldwide, it has successfully developed natural resource projects under coherent and encompassing mandates driven by environmental, social, and governance (ESG) principles. Its understanding of economic geology, in tandem with environmental considerations and continual stakeholder engagement, has enabled the team to advance projects from exploration through to production.
Until recently, Hall was Chairman of Horizonte Minerals Plc – a company that has taken a Tier 1 nickel asset in Brazil from exploration through development to fully-financed construction. Other team members include the successful entrepreneur Cathal Friel, Co-Founder of Amryt Pharma Plc, which was acquired for $1.48bn in January 2023, and Michael Nolan, the former Finance Director and Founder of Cove Energy plc, which he guided through its £1.2bn sale to Thailand's PTTEP.
Olserum: Project of National Interest
Since the REE mineralisation at the 6.5km2 Olserum licence (Fig. 1) was first identified in the 1990s by the Swedish Geological Survey (SGU), significant work has been undertaken at the project, resulting in the publishing of an initial 43-101 compliant Indicated Resource of 4.5Mt grading 0.6% Total Rare Earth Oxides (TREO) and an Inferred Resource of 3.3Mt grading 0.63% TREO using a 0.4% cut-off in 2013.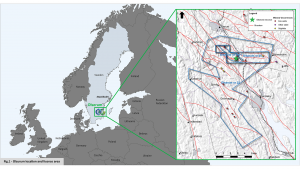 The SGU designated Olserum as a project of National Interest for rare earths in May 2023. This establishes Olserum as a project of particular importance, which should hold priority over other land use where appropriate and protect it against measures that could complicate possible future extraction. The company is pleased with this recognition, even though the existing resource lies solely on commercial forestry lands well away from residential areas.
EGM's experienced technical team, led by consultant geologist Aiden Lavelle, relogged all the previous drill core and undertook new geological mapping, sampling, and modelling (Fig. 2). This has given the team a better understanding of the controls on the REE mineralisation, and more importantly shown the district potential for major REE mineralisation. The initial 400m strike has already been expanded, exceeding 4km. With this knowledge, the company has expanded its land position ten-fold, acquiring the ~71km2 Olserum 22 permit, which surrounds the original Olserum licence (Fig. 1). This gives EGM district-scale control of this rapidly emerging highly prospective REE region.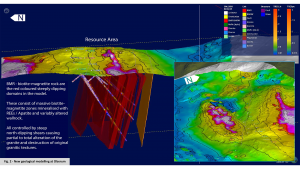 Work on the mineralogy and beneficiation of the ore has shown the REEs are hosted by xenotime and monazite – both REE-bearing phosphates which have well-established processing pathways. In addition, Olserum has a large contribution of the high-value critical REEs dysprosium (Dy), yttrium (Y), neodymium (Nd), terbium (Tb) and praseodymium (Pr) – a unique advantage for its ultimate development as a REE mine. The Olserum composite sample's beneficiation flowsheet involved grinding, wet low intensity magnetic separation for magnetite removal, and a single stage of roughing and two stages of cleaning for flotation of the target phosphate minerals. The mineralisation's strong continuity, potential for high-grade (>1% TREO) shoots, and promising recoveries using standard process routes suggest that Olserum could become Europe's first REE mine, with its full potential yet to be determined.
Hall said: "The excellent location and infrastructure (Fig. 3) of the Olserum deposit, along with available renewable power sources, add to our belief that this project will be a viable mining asset. We are planning infill drilling on the current resource area, to upgrade and expand the resource to Measured and Indicated status, and are undertaking further beneficiation testwork with GTK Mintek to increase recoveries from 80% to 85%. We have also started environmental baseline studies prior to drilling and will engage with and involve the local communities in our plans for the project."
The next steps for the Olserum rare earth element project
The team has already initiated a defined development programme aimed at completing a bankable feasibility study to advance Olserum toward production. This is being enacted utilising EGM's team, as well as dedicated consultants such as international consulting and engineering firm Geosyntec Consultants AB, which will undertake baseline environmental studies and deliver an Environmental Impact Assessment (EIA).
The team is also lobbying for Olserum to be identified as a Strategic Project of European Interest, as defined in the EU Critical Raw Materials Act outlined in March 2023, to support fast-tracking the permitting process for the development of a mine. Additionally, as corporate end-users – including mineral processors, permanent magnet producers, EV battery suppliers, and automobile manufacturers – strive to ensure a stable stream of critical minerals, free from geopolitical constraints, the EGM team aims to forge partnerships with these entities through a collaborative co-development business model – one that is increasingly prevalent in the lithium sector, as highlighted by recent transactions. On a wider level, work at the new permit, Olserum 22, has yielded highly promising targets, which EGM aims to develop as it looks to deepen its understanding of the area and build a substantial REE resource inventory.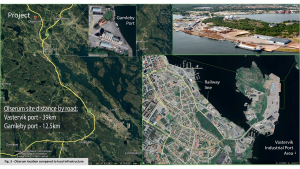 Pajala graphite potential: High-grade Swedish graphite
EGM's mission of developing critical mineral projects in Europe for Europe is not limited to the Olserum rare earth element project. The company also owns the Pajala graphite project in northern Sweden, discovered while working through its proprietary in-house database of available, defined areas with known graphite occurrences. Graphite, while often overlooked, is another key constituent in the energy transition, representing over 25% of the mineral component of an EV battery.
Pajala comprises three granted concessions – Liviövaara 101, Lehtöslkä 101 and Lehtöslkä 102. Graphite in the area was initially defined in drilling by Sweden's LKAB and, though only a few holes tested the horizon, combined with geophysics, a potential historic and non-compliant resource was outlined. The Liviövaara area has high-grade drill hole intercepts, including 4.7m grading 39.8% carbon (C) and 8.4m grading 29% C, values in line with Talga Group's Vittangi project, which claims to be the highest-grade graphite in the world (19.4Mt grading 24% C). EGM plans to drill Pajala, aiming to twin the original holes then expand the drilling to rapidly define an initial resource. Large core will allow the company to undertake flake size distribution and purity to assess the quality of the graphite and the saleability of the product.
Elsewhere in Europe: The Saxony opportunity
In addition to Sweden, EGM is active in the Ore Mountains (Erzgebirge) of Saxony, Germany, which is host to multiple occurrences of critical metals, such as lithium, nickel, cobalt, gallium, germanium and indium. These metals occur in various styles of mineralisation, including veins, skarns, and lithium greisens.
Saxony has a 1,000-year mining history and is currently experiencing advanced exploration primarily for lithium, tin, tungsten, silver, and fluorite. The area has excellent infrastructure, a year-round workable climate and respected academic institutions providing high-level access to research and staff. EGM currently has two projects: the 14km2 Eichigt licence; and the 381km2 Marienberg licence.
The Eichigt licence, prospective for Li-Co-Ni-Mn-REE has been the focus of EGM's exploration in 2023 and has been advanced to drill-target stage. Rock sample results identified elevated levels of multiple critical elements and mineralised structures on a NW-SE trend. 1km of strike was identified with workings continuing for a total of 1.7km, and grades were extremely promising. This included lithium up to 0.23%, cobalt up to 0.82%, and nickel up to 0.18% ppm and REE values higher than expected, the highest TREO value of 1.26% with four other samples greater than 0.5%. The next stage for EGM is to drill test this large poly-critical metals system in the heart of Europe to define its economic potential.
The 381km2 Marienberg licence area was historically an area that produced silver and tin but is also highly prospective for critical minerals. The EGM team believe that the encountered geological signatures make it a perfect addition to its portfolio and is currently initiating an extensive evaluation programme to understand its potential.
What does it all mean?
Achieving the energy transition demands a vast supply of critical minerals. Companies and governments must co-operate to boost production on a massive scale, with ESG principles at the forefront of mineral development. As well as stakeholder engagement, further education of the general public is required. Miners, such as EGM, are not the destructive demons many perceive, but responsible developers of critical minerals, without which there can be no net zero.
Projects, such as the Olserum rare earth element project, must be advanced. EGM has demonstrated the existence of critical mineral projects to progress within the European Union (EU) and others to explore and define. Industry names are eager to collaborate with EGM's team. Now, EGM and the natural resource development sector need the backing of national and local governments to bring these promising projects to fruition.